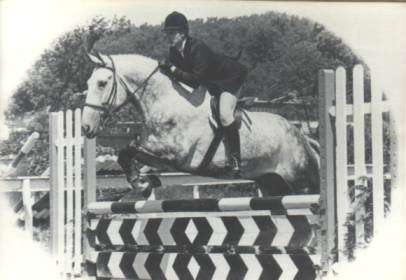 LINKS OF NOTE:
MUSEUMS & GALLERIES:
THE NATIONAL SPORTING LIBRARY & MUSEUM Middleburg, VA.
THE AMERICAN ACADEMY OF EQUINE ART Lexington, KY.
THE AMERICAN MUSEUM OF FLY FISHING Manchester, VT.
HARNESS RACING MUSEUM Goshen, NY.
INTERNATIONAL MUSEUM OF THE HORSE Kentcky Horse Park, KY.
KENTUCKY DERBY MUSEUM Lousiville, KY.
THE LONG ISLAND MUSEUM OF AMERICAN ART, HISTORY, AND CARRIAGES Long Island, NY.
THE MUSEUM OF HOUNDS AND HUNTING Morven Park - Leesburg, VA.
MUSEUM OF WESTERN ART Prescott, AZ.
THE NATIONAL MUSEUM OF THE MORGAN HORSE Shelburne, VT.
NATIONAL COWBOY AND WESTERN HERITAGE MUSEUM Oklahoma City, OK.
NATIONAL COWGIRL MUSEUM AND HALL OF FAME. Fort Worth, TX.
NATIONAL HORSERACING MUSEUM Newmarket, England.
NATIONAL MUSEUM OF RACING AND HALL OF FAME Saratoga Springs, NY.
NATIONAL MUSEUM OF WILDLIFE ART Jackson Hole, WY.
ASSOCIATIONS:
THE COUNTRYSIDE ALLIANCE UK National Organization who's vision is of a vital, working and thriving countryside for the benefit of the whole nation.
THE MASTERS OF FOXHOUNDS ASSOCIATION OF AMERICA Millwood, VA.
THOROUGHBRED HERITAGE The history and individuals contributing to the grand tapestry of the modern Thoroughbred's pedigree.
UNITED STATES POLO ASSOCIATION Lexington, KY.
PUBLICATIONS:
AMERICAN HORSE PUBLICATIONS Resources and networking for equine publications worldwide.
THE CHRONICLE OF THE HORSE Middleburg, VA.
THE VIRGINIA HORSE JOURNAL Warrenton, VA.
SADDLERS & SUPPLIERS:
THE FOXHUNTING SHOP Saddlery, hunting appointments, attire and gifts.
DOG COLLARS PLACE A unique selection of quality collars for medium and large dogs.
SPORTING GIFTS & ANTIQUES:
THE DOG MUSEUM Stunning dog portraits and sporting art.
WILLIAM SECORD GALLERY New York, NY. Fine nineteenth and twentieth century dogs and animal paintings, bronzes and sporting antiques.
HORSEGIFT.COM The online gift shop for horse lovers.
SERVICES:
LIZ CALLAR PHOTOGRAPHY Talented, experienced, professional photography services for horse, hound and human.
TRAVELING HORSE Great site to find competent horse shippers and overnight stabling.